2012 Ram - I just want to thank Dave and Donelle for there help and professional service they provide through huntdata maps. The sheep kill sites map and the centerpoint map for my specific unit were extremely beneficial. Being able to study, visualize and create a plan from the information the maps helped me harvest my ram. I hope it is not the case, but this hunt and memories is going to be really hard to beat. With the help of a couple great friends, my in-laws and a lot of support from my wife and kids, this was just a really enjoyable hunt with a great outcome during a great time of the peak fall season, and seeing lots of wildlife, it was great. But I must emphasize it all started with getting in really good shape and having huntdata maps and cds to look at and visualize nightly, really took the pressure off what could be a once in a lifetime hunt. Thanks Huntdata. Scott Denver
The BigGameCD by Hunt Data was a great resource for me on my bighorn sheep hunt. After waiting nine years to draw the tag and having never hunted bighorn sheep before, the CD was invaluable in helping me plan my pre-season scouting. I was able to plot locations where other hunters had taken rams in my unit and then print out the maps.



Thank you to my friends Cam, Ken and Scott and to the folks at BigGameCD for helping me get my ram"
The bull below was taken in the first season on public lands. We used a cow in heat call to lure him out of the timber.





Dave (owner) with a bull in 2002. 8 elk in the past 10 years!.
Donnelle (Owner) with her first bull in 2001. 5 elk in the past 5 years! She took this bull in the 3rd season in a winter concentration area.
This note is to thank you for your Big Game CD. The information and maps it provided were invaluable in enabling me to fill my Mt. Goat tag last fall with this fine Billy! The information your CD provided definitely helped me in locating the goats and preparing for the treacherous country and weather I faced in this once in a lifetime experience. Once again, thanks for this wonderful tool for hunters!
Dave and Don with a great 6x6. Not bad for an over-the-counter hunt! Thanks Carey for "birddogging". The 6x6 above was taken in the 2nd over-the-counter season. There had been some early snows so we positioned ourselves in a migration corridor between summer and winter ranges. Bingo, this bull was slinking through the dark timber heading down to the winter range.
Donnelle with a cow in 2003, also in a winter concentration area.
I'm the elk hunter from Minnesota I can't tell you how impressed I am with your Big Game CD. First of all, it is very user friendly. When I got home I had it up and running in short time without any problems. For me to do that on the computer says a lot for your program. You had already showed me all of the information on the program. So thanks for a great program and a job well done. Keep up the good work and I hope you continue to have great sales ----- " Minnesota Hunter"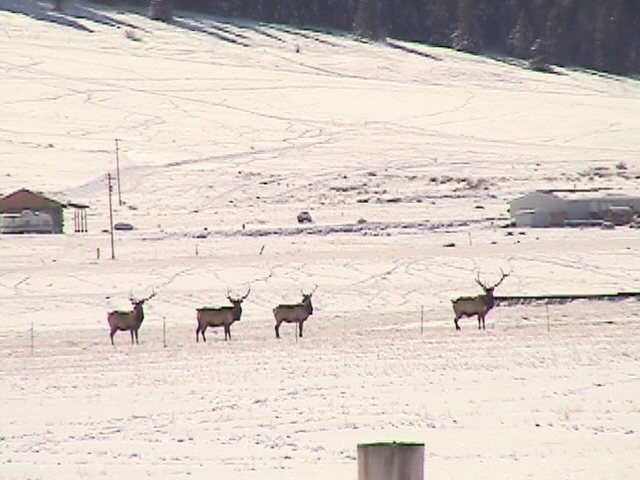 These bulls were in a winter range concentration area. A lot of the winter range in Colorado is private (the cabin). If you are hunting in the 4th or other late seasons focus on the winter ranges (identified in BigGameCD). BUT, evaluate the land status as part of your hunt planning.