2008 Provided Meat For Our Freezer!
By Donnelle
We started off the hunt Labor Day weekend. This year was a bit tougher than other years for interacting with the bulls. On our drive home from a weekend hunt, we saw a bull elk on a ridge beyond a herd of cattle. I quickly got out of the truck and bugled. This beautiful 6x6 came a running with a 5x5 to back him up. He came within 40 yards of our truck. We played with these bulls for about an hour, but it wasn't our unit (isn't that always the story), so we left them for another hunter to encounter.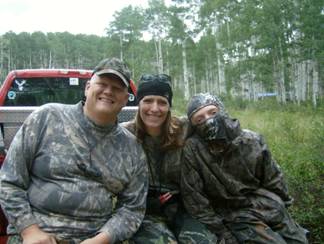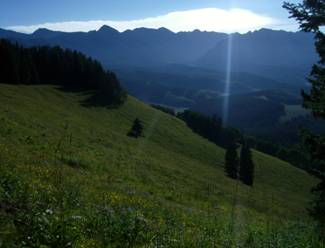 3rd season rifle would bring more fun for our son and father-in-law (he calls himself the old guy). This was a three generation hunt that had never before happened in our family. Dave had to be a bit more creative on this hunt as his father has to have oxygen at higher elevations. His father had a bull tag and our son had a cow tag. Opening morning they were able to position themselves in the midst of about 75 elk. Dave had instructed his son not to shoot till his grandpa had a shot too. As luck would have it (as they were waiting for each other to shoot), no shots were fired this morning, but a great encounter was had for both young and old. Memories were made this week that will never be forgotten. No we cannot tell you where this super secret spot is J But we can say, that Mark shot a 6x6 here two years ago. Harvesting elk is always desired, but great memories can still be had without a kill.
4th season would be the hunt that brought meat to the freezer. Our schedules were crazy, and I did not think I would get to go on this hunt. Dave insisted I go with a girl friend and he would stay home to tend to the duties of an active family. I would only get to hunt 3 times, open morning/evening and the next morning hunt. I went to a trusted hunting spot, only to find 6-12 inches of snow in places. It appeared that the elk had moved to a lower elevation as she walked the perimeters of the hunting area. On my way out, four cows would come speeding past me, obviously spooked by us or another hunter nearby. I ran passionately after them, only to come upon a boundary of private land where I would have to give up on my hunt for the morning.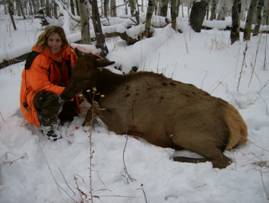 Donnelle's 7th elk since 2000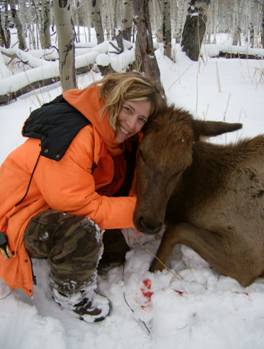 I would return one last time for the 2008 season to her hunting area to find success. I had pulled a muscle the prior day walking in the snow (this is why I prefers the archery hunt). My friend walked in front of me to break the snow drifts. My friend was about 10 yards in front of me when we encountered a herd of elk. I didn't feel she could get in front without spooking the herd. I quietly said to her, "Get down". She got down on one knee. I said again, "Get down!" This time she laid on her back, and I shot a lung shot. This was my friend's first encounter with a rifle elk hunt, so there was a lot of fun to be had that day. By the time I finished cleaning the elk, seven men had climbed the mountain, and the elk was slid down on the fresh snow in about 20 minutes. I gave a HUGE thank you to these men. It would have taken the girls MUCH longer to get that elk off the mountain!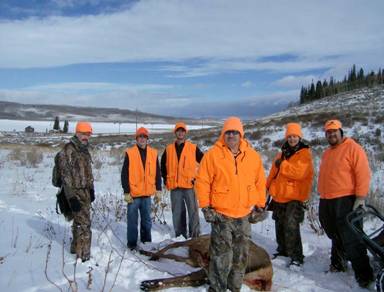 As always, this season brought great memories with family and friends. Hunting has been such a great hobby to bring us closer to each other and encounter the many elements of nature. Thanks to all of you that made this 2008 season a great success in many, many ways! Enjoy each time you enter the Rockies. We have the opportunity to hunt in one of the greatest places on the earth! Tell us your story! Email us (click here).
---
Donnelle shot her first Antelope in 2006.. When she was walking up to this buck (after the shot) another large buck struck a pose at 100yds.
She shot another Antelope Buck in 2007. She was out of points for 2008.
---
A friend of ours, Mark, went up to the same elk area for first rifle season. He repeated the hunts Chuck and I mapped out. Below is his 6x6 he shot (public land) in the big guy's meadow. Way to go Mark!
Archery and other Video!

Click on the image for the video

Donnelle's first archery hunt (first 15 minutes!) Donnelle's first archery cow And when you have a cow tag...

( All on Public Lands )

Herd headed up the side of a mountain

Early morning bulls...